Monthly Social Events – come and join us:
The Fox Quiz on the second Tuesday of the month, 7.30 for 8pm
MY Comedy, hosted by Maureen Younger, an evening of female comedy at the Kitchen Garden Cafe, Kings Heath, every second Wednesday of the month.
Events 2017:
Thursday 26th January
Acting Out present their pantomime Big Dick Whittington at the Wellington Hotel (72 Bristol Street, Birmingham B5 7AH). The performance starts at 8pm and we will meet at 7.30pm in the bar. Entry is free but you can make a donation to Acting Out on the night if you wish.
Wednesday 8th February
Maureen Younger returns to the Kitchen Garden Café (17 York Road, Kings Heath, B14 7SA) to host another all female comedy night. Join Boot Women at this fantastic regular monthly event. It starts at 8pm, but be early as the shows usually sell out. Doors open at 7pm and tickets are available in advance from the Kitchen Garden Café or wegottickets.com (£10).
Thursday 9th March
Boot Women movie night at the Electric Cinema! Join us to watch Barry Jenkins' Oscar-winning film Moonlight at 6pm. Meet in the foyer at 5.45pm.
Saturday 27 May
Birmingham Pride. Join us to walk in the parade! Meet at 11.45am in Victoria Square.

Tuesday 27 June 7.30pm
Boot Women Movie Night at the Wellington Hotel (B5 7AH). Free screening of French comedy Gazon Maudit (French Twist).
Tuesday 26 September 7.30pm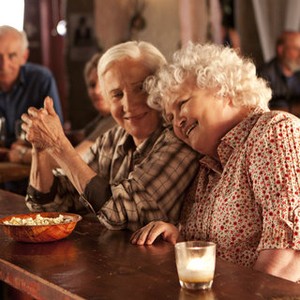 Boot Women Movie Night at the Wellington Hotel (B5 7AH). Free screening of comedy drama Cloud Burst.
Friday 20 October 7.30pm
Boot Women Meal and Social at Café Soya. Contact us by 10 Oct to book your place.
Events 2016:
Pink Sou'westers are offering same sex dance classes covering a range of ballroom and Latin dances at £6 per class, or £20 for all four lessons.
All Saints Community Centre, 2 Vicarage Road, Kings Heath, Birmingham B14 7RA.
Sundays 21st & 28th Feb, 6th & 13th Mar, 3.00pm – 5.00pm
*Please note that this is not a Boot Women event. Kindly contact swbgroup@blueyonder.co.uk for further information, if needed.*
Loft Lounge – Saturday 12th March 5pm
Join us for a few beers or maybe a bite to eat from 5pm onwards. 143 Bromsgrove Street, B5 6RG
Saturday 2nd April 7.30pm Slideshow and talk from Sue Thorne, who cycled 5000 miles around the coast of Britain last year.
Share with Sue the Edge… the high's and low's of travelling alone, stunning scenary, battling the elements and chance encounters.
We have booked a private room with a bar at the Wellington Pub , 37 Bennetts Hill, B2 5SN (off New Street).
Boot Women Disco and AGM
Join us at Eden Bar (116 Sherlock St, B5 6NB) from 8pm on Friday 13th May 2016 for the Boot Women Disco.
We'll have a private room with bar and DJ Hannah on the decks till the early hours.
We will be holding our annual AGM before the disco at 7.15pm, also at Eden.
If you would like to be more involved with Boot Women or would like to take up a role on the committee, now is the time to do it.
Birmingham Pride 2016

Join us at Birmingham Pride! Meet us on Saturday, 28 May at 11.30am in Victoria Square to march in the parade.

Ab Fab: The Movie and Sue Perkins Live
Some of us will be going to the two events below. If you want to join us, get your tickets!
1. Absolutely Fabulous: The Movie, The Electric Cinema (47-49 Station Street), Monday, 4th July 2016, 8.30pm. Meet in the foyer at 8.15pm.
2. Sue Perkins Live! In Spectacles, Birmingham Town Hall, Sunday, 18th September 2016, 7.30pm. Meet at the Town Hall at 7.15pm. Tickets are £27.50.
Hope to see some of you there 🙂

Boot Women Meal and Social
Café Soya, 15 Oct 2016, 7.45pm. Contact us by 8 Oct to book your place.
Past Events (2015):

Birmingham Pride Parade    Saturday 23rd May 2015
For any women wishing to walk with us in the parade, please meet outside the Town Hall at 11.30
Walk with Pride Walk            Monday 25th May 2015
A beautiful blend of old and new iconic Brum landmarks.
Meet at Aston Station (beside the main road outside the station under the old railway bridge) from 10.30 for this 4 mile walk leaving at 11am, stopping for lunch halfway round. Please bring food and drinks with you. The ground is level so walking boots are not required.
Please note this is a mixed group walk as part of the Rainbow Walks.
Bootwomen BBQ                   Date to be announced shortly
This FREE event will be held at the Fox , thanks to Andy for hosting this event.
Cannon Hill Park Stroll        Friday 19th June 2015
As we approach the longest day of the year we make the most of the daylight with a stroll through Birmingham's premier park ending the evening with a drink in the Mac bar.
An ideal time to meet up with Boot Women if you have not joined us before.
Meet in the outside area of the Mac to leave at 7pm.
The Barton Arms Meal          Saturday 27th June 2015
Not only a fine example of Victorian architecture, this must-visit pub serves the most amazing Thai food that is not to be missed. Meet in the bar from 7.30pm to eat at 8pm.  
To book a place at the table, please contact us no later than Sunday 21st June.
The Barton Arms
144 High Street, Aston
Birmingham B6 4UP
L Fest  Uttoxeter Racecorse     Friday 17th/20th July 2015
Tickets are on sale now for this event. Bootwomen will be there!!!
Pink Sou'westers BBQ at the Fox, 22nd July
V Festival, Weston Park         Saturday 22nd & Sunday 23rd August 2015
A star studded line up to celebrate 20 years of V festival.
The Bootwomen Challenge Walk    Sunday 27th September 2015
The Tolkien Trail, Cannock Chase.
A circular 10 mile walk from Coppice Hill car park passing Brocton, Oldacre Valley and the Glacial Boulder descending into Sherbrook Valley through the rifle ranges and the remains of Rugely camp. Climbing back up to Brindley Valley we pass the war cemeteries and via the White House return to Coppice Hill car park.
Meet at Coppice Hill car park, 9am for a prompt 9.15am start.
Please note that this has been postponed and will now take place in 2016 – details to follow
Wolverhampton Pride Inside Saturday 3rd October from 2pm, Network House Street

Health and well-being areas, community areas, stalls, food, stages, young people activity areas, speakers, workshops and more, all unaffected by any bad weather! All this for an entrance fee of £2.
Oktoberfest    Friday 16th October 2015

Cannon Hill Park Nature Centre
No need to travel to Munich for the beer festival, it's right here in Birmingham at the Cannon Hill Park Nature Centre. One big tent, one big party. 2500 people singing and dancing to Bavarian music and when the band takes a break the DJ takes over. A non-stop party from 18.30 till 23.00 are you up for this?
Packages are available from £33 which includes snacks, seat reservation, 2 x 1.5 pints of German beer or 1 bottle of red/white wine, German schnitzel with Bavarian fries and a dessert.
Please contact us to book your ticket if you would like to come along.
Barton Arms Meal and Social      Saturday 31st October 2015
We are making a return to this gem of Victorian architecture and highly recommended Thai restaurant. Meet in the bar from 7.30pm to eat at 8pm.  
To book a place at the table, please contact us no later than 24th October.
The Barton Arms
144 High Street, Aston
Birmingham B6 4UP
Shout Festival 12-22 November

Birmingham's Queer Arts & Culture Festival returns in November. Full details and programme can be found here.
This year's line-up includes a special MY Comedy show for the Shout Festival, featuring,  alongside resident MC, Maureen Younger, comics Jo Enright (The Job Lot), Bethany Black (Cucumber) and VG Lee (Polari).Boot Women will be in the audience so go get your tickets and join us!
The show will take place on Sunday, 15 Nov, 7.30pm at The Penthouse in the Loft Lounge, 143 Bromsgrove Street, Southside, Birmingham, B5 6RG.
Tickets are £10. Click here to buy yours.
Boot Women will be in the audience so go get your tickets and join us!
Boot Women Christmas Disco  Saturday 5th December 2015, 8pm
Join us for the Boot Women Christmas Disco at Eden Bar on 5 December, from eight till late.
Tickets are only £4, and concessions are available, so come along and have fun!
| | |
| --- | --- |
| OTHER ACTIVITIES | Got any more ideas for activities? If so, let us know! Past events have included camping weekends, horse-riding, cycling, canoe trips and volleyball.If you have a forthcoming event you'd like to tell us about, please email the details to hello@bootwomen.org.uk |